Queens


Kimara Silvan Naleerah
Kimara Silvan Naleerah was born on december 25th, 2008. A real Christmas kitten! Now, Nellie has grown into a beautiful, elegant but sturdy girl with a beautiful high earset. Nellie eyes are already a gorgeous green color, het fur is soft, thich and pluche and has a great silversheen. From the start Nellie has been friends with our young male Cerebro Lyubovnik Dunoe (Nicky). Nicky and Nellie will sleep together, play, run and jump together. Nellie is an expert fly catcher but sadly also loves the stinging creatures with wings. Her high jumps are amazing thanks the long limbs that support her streamlined body. Nellie originated in Australia and was bred by Lucy Nikiforos of Kimara cattery. Lucy entrusted us with this lovely girl as wel as with Kimara Royalblu Mischea. We enjoy the company of Nellie every single day!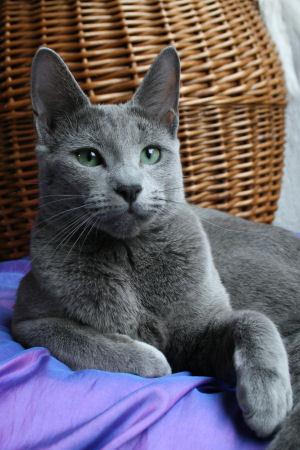 Kimara Royalblu Mischea
Mackenzie, as Mischea is named here in Holland, is also of Australian origin. This lovely, light silvergrey girl was born there on january 10th 2009 at Lucy Nikiforos' Kimara Cattery. Mackenzie is a gorgeous girl with lovely prominent whiskerpads, a sweet expression and thick pluche fur with a lot of silvertipping. Her eyes are of a beautiful green color despite her young age. Mackenzie lives with Erinn in The Hague. Erinn will show and breed this wonderful girl under the guidance and affix of cattery Dunoe. Mackenzie is a lovely queen with a great pedigree and a lovely character. Erinn is fully in love with her and her playful tricks and funny noises. Mackenzie cannot realy say Meow and hearing her try to talk is very funny. You will look for a tiny bird and instead see a fairly big kitty!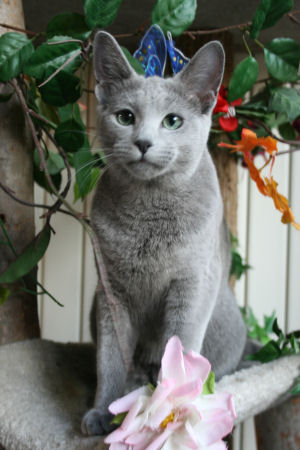 Aline Siva Katyusha Dunoe
HCM and PKD neg. 06-01-2008
Aline Siva Katyusha, Toesje for friends, is our newest adition. This beautiful daughter of Gr. Int. Ch. Marenka Dunoe and Int.Ch. Troika Sivi Tovaritsj has been born in our home at december 10th, 2007. Our youngest girl has a motor that does overtime all day and a whole repertoire of mischief. She likes to be there where the action is and is interested in everything and all.
Toesje likes to mother over our kittens. She washes them, plays with them and comes to their rescue when they yelp.
In future we hope that our Toesje will become a mother herself with the right partner. Until that time our girl can enjoy herself playing with her favourite toy: a feathered stick. Her favourite pastime is running around with it and hiding her prey behind secret corners.
Another one of her hobbies is snacking. Nothing is safe for our little monkey who will find any hiding place with cat treats in it. She is also very much aware of kitten dinner time and will stick around to eat what's left over by them. Even though she's had her own dinner right before.
All in all our Toesje is a very funny and sweet girl and we love her very much!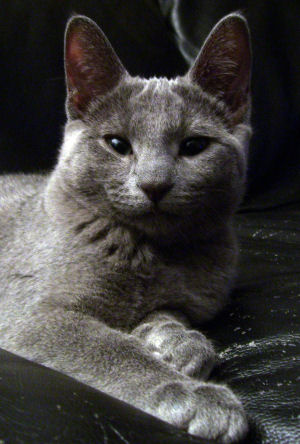 Gr. Int. Ch.Marenka Dunoe
Marenka was born in our home at october 10th 2003. She is a daughter of Int. Ch. Iulinka van Terra de Bernescot and our ex-stud, Ch. Lyasjko Andrej Dunoe. Marenka is a very sweet girl with a quiet disposition. She loves cuddling and loves to ly close to you so you can rub her favourite place: her tummy. Marenka's name is a combination from two names. The name of our daughter Irenka and her best friend Marinka.
Marenka is a quite realxed showcat who does not mind the long hours of waiting very much. She will ly in my arms and will watch all that is going on around her with interest.
Marenka is a great mother who will lovingly take care of her kittens and has confidence in her own abilities. She will bring up her litters without any problem, be there 6 or only 2 kittens.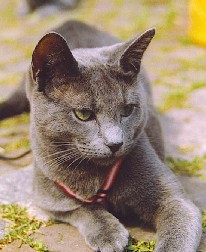 Marenka Dunoe
10-10-2003
stamboom




Int.Ch.Iulinka van Terra de Bernescot

HCM and PKD neg. 11-09-2007

Iulinka van Terra de Bernescot was born at july 2th, 2002 at the house of Miss Anne-Marie Marien in Belgium. We selected Iulinka for her pedigree and type. We where looking for a queen to combine with our own stud, Lyasjko Andrej Dunoe. Both her pedigree and her looks where compatible with Lyasjko.
Even though Iulinka grew up without children, she never had any problem with our three kids. Especially our youngest, then barely 2 years old, has caries her around the house. Iulinka was and is fine with that.
As a kitten she loved to sit on my shoulder and follow me around the house. She still does that and will sit in my lap or next to me whenever I'm at the PC.
She will welcome all visitors to our home and loves to be cuddled. Young or old, it does not matter to her as long as they are willing to stroke her.
Iulinka is a great mother who will have her kittens very easily and is a very content and loving mother. She will put a big paw around her kittens and sigh a sigh of big pleasure because of her kids. Her kittens are very sweet, loving and are fine pets and showcats.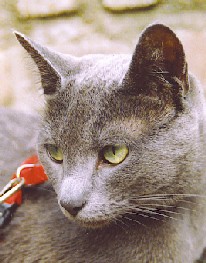 Iulinka van Terra de Bernescot
2-7-2002
stamboom





Gr. Int. Pr.Danitchka Trokline

Danitchka Trokline was bred by friends out of one of our cats. Her mother is Dezjda Dunoe and her father was the English stud Sashova Orlov Almaz. Danitchka is a very sunny girl who loves to sit on your lap and cuddle. She does not like it when it's too busy in the house and will tell you so. Then she will find herself a quiet place to sleep. She is the favourite cat of the gents in our family.
When her first litter ended in a ceasarian because she was too narrow to give birth, she was immediately castrated and taken out of breeding. She stays with us as a very much loved pet and will sometimes go along to shows. We have kept the girl from her one and only litter.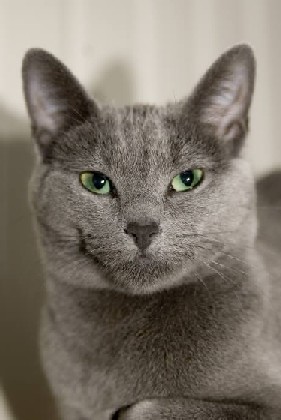 Danitchka Trokline
7-10-2003
stamboom









Zatazja Zofia Dunoe

Zatazja Zofia Dunoe was our fourth breeding queen. She is the daughter of Danitchka Trokline and Stari Chaika. She was born on december 30th, 2004. Because of the ceasarian her mother needed, her first hours where a bit scary. Luckily she pulled through and within some days was a healthy and thriving kitten.
Zatazja had the most wonderfull character and was very sweet and modest. Zatazja had 4 litters with us and then has been castrated. She was not happy in the group anymore and was therefore rehomed with a very nice couple and their super Siamese boy Syver. Syver and Zatazja are great friends now and happily live, play and sleep together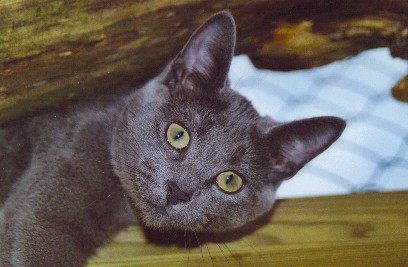 Zatazja Zofia Dunoe
30-12-2004