Studs

Int.Ch.Troika Sivi Tovaritsj
HCM, PKD en CIN neg: 16-05-2008
Since the end of april 2007, Ch. Troika Sivi Tovaritsj (Grey Friend), born on november 15th 2006, is part of our cattery. This beautiful English male was bred by Miss Clare Bandy of Troika Cattery.
Sivi lives with Esther Oudshoorn of cattery Mothers Finest who is the co-owner of this beautifull male with his prominent whisker pads and his beautiful blue fur coat.
Sivi shares his roomy quarters with another sweet cat, Gurindji. Sivi loves being rubbed on his tummy and loves being in the centre of attention. He is very interested in other cats and people and will approach them with healthy interest. Sivi is the father of a couple of litters of sweet and great-looking Russian Blue and in future will, within limits, also be used for stud service.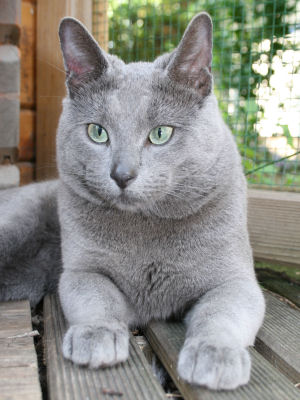 Troika Sivi Tovaritsj.
Pedigree will follow.